An auto title loan generally provides a good short term solution to a financial need. It is far less expensive than a payday loan, and it offers much more flexible re-payment terms. Unlike other types of loans, auto title loans, car title or pink slip loans allow you to utilize the title of the vehicle you already own to secure the cash you need.
1% Checks Cashed 1% does not make auto title loans directly, but we can help you to get an auto title loan from one of the nine locations of our partnered company, Phoenix Title Loans. We can provide you with an application, and explain to you the process involved in getting an auto title loan.
If you have a current auto title loan, we can review your current loan terms and compare them to the terms available on auto title loans from Phoenix Title Loans.
Bad credit, slow credit or even no credit is no problem when you come to Phoenix Title Loans for your short term cash solutions. We are prepared to offer you a cash auto title loan from $100 to $100,000 regardless of your credit history.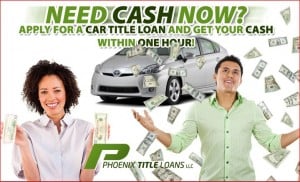 Phoenix Title Loans has locations in Phoenix, Tempe, Mesa, Scottsdale, Chandler, and Avondale, Arizona.